Pacific Salmon Foundation Salmon Stamp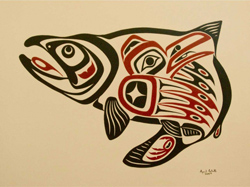 In November, 2014 April White was honoured by having her submission chosen for the 2015/16 Pacific Salmon Foundation's Recreational Fisheries Salmon Conservation Stamp.
The acrylic painting entitled 'Salmon Tale' was April's fifth entry into the annual competition. With the selection of her entry, this became the first and only time in 25 years that a person of aboriginal descent has won the art contest.
As part of her personal commitment to aid the good work of the PSF, April volunteered to produce her image as hand-pulled serigraphs at her printmaking studio at Wind Spirit Gallery. This image will be sold by the Pacific Salmon Foundation for their continued fundraising efforts.
Haida Gwaii Lodge and Eagles Feast House Summer season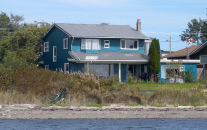 With Spring upon us and Summer just around the corner April has been busy booking reservations for visitors to her two beautiful oceanfront B&B guesthouses on Haida Gwaii.
This place, where April and all Haida call home has become a must see destination for travellers from around the world. The Islands were named among National Geographic's Best Trips 2015. To stay with us this summer please visit our website eaglesfeast.com and do not hesitate to call us with questions and to reserve a place to call home during your stay on the edge of the earth.
---
Archived News...
Noteworthy Libations:
An Evening of Food, Wine and Music benefitting PRISMA


Join April White and world-renowned cellist Arthur Arnold at Wind Spirit Gallery in Powell River, B.C. for this intimate arts and culture experience. A fundraiser for this non-profit, charitable society and this year's program, the evening includes wine from the Comox Valley's 40 Knots Winery, delectable bites, music by Arthur and art by April.
This event takes place April 23 from 7 p.m. to 9 p.m.
For more information or to purchase a limited release ticket contact PRISMA event co-ordinator Kim Barton-Bridges at 604-485-3931 or by email at events@orchestra-academy.ca
Meet April during the 2010 Olympic Games
You and your friends are invited to meet April White in Vancouver. She will be unveiling her latest Cedarbark screenprints which will be shown for the first time during the 2010 Winter Games! Come and see her and her artwork at:
Four Host First Nations Aboriginal Artisan Village & Business Showcase (A)
250 West Pender Street
February 26-28, open 10am to 10pm daily
Canamade 2010 Winter Market (B)
151 West Cordova Street
Booth# 39, February 11-28, open 11am to 8pm daily.
On select days, she will also be an Ambassador, talking about beautiful Haida Gwaii, at the Haida Gwaii House (C), 783 Beatty Street, which is open February 11-28, noon to 9pm daily.
Her work will also be featured at a few select galleries in Vancouver and Whistler:
Bill Reid Gallery of Northwest Coast Art (D)
639 Hornby Street Vancouver
Coastal People's Fine Art Galleries
Yaletown: 1024 Mainland Street Vancouver (E)
Gastown: 312 Water Street Vancouver (F)
The Path Gallery
122-4338 Main Street, Whistler Village (see map)
We hope to see you there!